If you're like us, you spent your childhood devouring
Judy Blume
books. We loved the way Blume captured growing up — from the pains of puberty to the ups and downs of first love — in a realistic, sensitive, and often funny way. In honor of the new
Are You There God? It's Me, Margaret
movie, the film adaptation of one of her most popular novels, we've compiled a list of books you should read now based on your favorite Judy Blume book as a kid.
If you loved Just as Long as We're Together, try reading…
Like other Judy Blume books, this coming-of-age novel follows a young adolescent girl and her friends as they face puberty while juggling school pressures and family issues. What makes this novel shine is the friendship between main character Stephanie, her longtime best friend Rachel, and newcomer Alison. Just as Long as We're Together shows how this friendship isn't only the heart of the novel, but it is also an engine for growth as the girls face jealousy of one another and tension between their very different personalities.
If you loved this tale of friendship, check out Amy Mason Doan's The Summer List. In the 1990s, high school friends Laura and Casey were inseparable until a betrayal tore them apart. Now, seventeen years later, Casey's mother has invited Laura back to the California lake of her childhood for a scavenger hunt with Casey across all their childhood haunts. But is it too late to repair their friendship, especially once a secret is revealed? In a review, Publishers Weekly praised the book, writing that "Doan's pleasant mix of mystery and high school nostalgia will please readers who grew up with the novels of Judy Blume."
If you loved Here's to You, Rachel Robinson, try reading…
After loving Just as Long as We're Together, many Blume fans read this companion book from the perspective of Stephanie's friend Rachel released seven years later. (Blume hoped to also write a book from the perspective of the third friend, Alison, but it hasn't happened yet.) Unlike laid-back Stephanie, Rachel is a perfectionist, anxious and driven to excel in school and everywhere else. In this novel, you get an insider's view of how she copes with the pressure she puts on herself alongside family conflict, a crush on her brother's tutor, and her complicated friendships with Stephanie and Alison.
Much like Rachel, Nicole in Tracey Livesay's romance Like Lovers Do is a hardworking perfectionist. A successful surgeon, Nicole's hopes of landing a coveted fellowship are thwarted when she upsets a powerful family. Enter her relaxed best friend, Ben, who's her opposite in many ways. If Nicole pretends to be his girlfriend on vacation in Martha's Vineyard, his family will help her gain the fellowship. But, as romance readers know, faking a relationship often leads to real feelings. It's fun to watch the driven Nicole succumb to love in this transporting story.
First published in 1975, Blume's young adult novel Forever sparked controversy for its frank depiction of teenage sex. Even now, many readers remember the dramatic feelings this novel evoked with its story of Katherine and Michael, two teens who meet on New Year's Eve and fall in love, eventually consummating their relationship. But real life intervenes when Katherine's parents make them spend the summer apart. And, well, despite its title, most first loves don't last forever.
Susan Choi's Trust Exercise shows how another intense love, this time between performing arts school students Sarah and David, is affected by an adult — namely their acting instructor, Mr. Kinglsey. Set in the 1980s, it's reminiscent of the time Judy Blume wrote many of her novels while also taking a modern spin on young love that may leave you questioning what really happened, what's true, and what part each character played in the outcome.
If you loved Tiger Eyes, try reading…
One of Blume's more emotionally intense novels, Tiger Eyes begins when teenager Davey's father is tragically killed during a robbery in New Jersey. In the wake of his death, Davey, her mother, and her brother move to New Mexico to stay with relatives. It's there she befriends an older boy named Wolf who helps her process her grief. In 2012, Judy Blume also co-wrote the script for a film adaptation of this moving novel.
If you were drawn to this tender story of grief and growing up, check out Heart Bones from #1 New York Times bestselling author Colleen Hoover. In it, main character Beyah also faces loss when her mother's addiction leads to her own death. In the aftermath, Beyah moves to Texas to spend the summer before college with her father, whom she barely knows and whose lifestyle is a radical departure from her impoverished childhood. But Beyah discovers a surprise bond with Samson, the boy next door, and that soon becomes much more than either of them expected.
If you loved Deenie, try reading…
Alongside crushes and school concerns, Judy Blume tackles body image head-on in this novel about Deenie, a young teen girl who's diagnosed with scoliosis. Being pigeonholed as the pretty child by a mother who expects her to be a model, Deenie views the world through appearances. But when she must wear a brace to correct her spine, she is forced to confront a changed image of herself and others.
Teen Quinn also struggles with body image in Natasha Friend's novel How We Roll. Quinn is a popular student who plays basketball and skateboards. But sudden hair loss leads to a diagnosis of alopecia, and her friends bail. Fortunately, she strikes up a friendship with Jake, a former football player who lost his legs in an accident and is processing his own changing body. You'll be moved by this powerful story of how two characters find new ways of being in the world.
If you loved Are You There, God? It's Me, Margaret, try reading…
Undoubtedly Judy Blume's most popular book, Are You There, God? It's Me, Margaret follows 12-year-old Margaret as she moves to a new school in the suburbs. There she worries about whether she's developing into a young woman quickly enough while also struggling in her faith life as the kid of an interfaith marriage. Throw in friends, a feisty grandma, crushes, and the hilarious exercise Margaret and her friends practice to increase their breast size ("We must, we must, we must increase our bust!"), and you have the makings of a book that's entertaining and memorable.
If you're missing a character like Margaret in your life, read Jami Attenberg's All Grown Up. With another one-of-a-kind heroine in Andrea Bern, we're treated to the full range of one woman's experience, from her upbringing in 1980s New York City and tumultuous family life to friendships, therapy, her artistic ambitions, and more. It's a read that's both funny and moving, not to mention page-turning. Take it from Judy Blume herself. Recommending the novel for the New York Times, Blume wrote, "I read it twice, laughing, cringing, and even tearing up."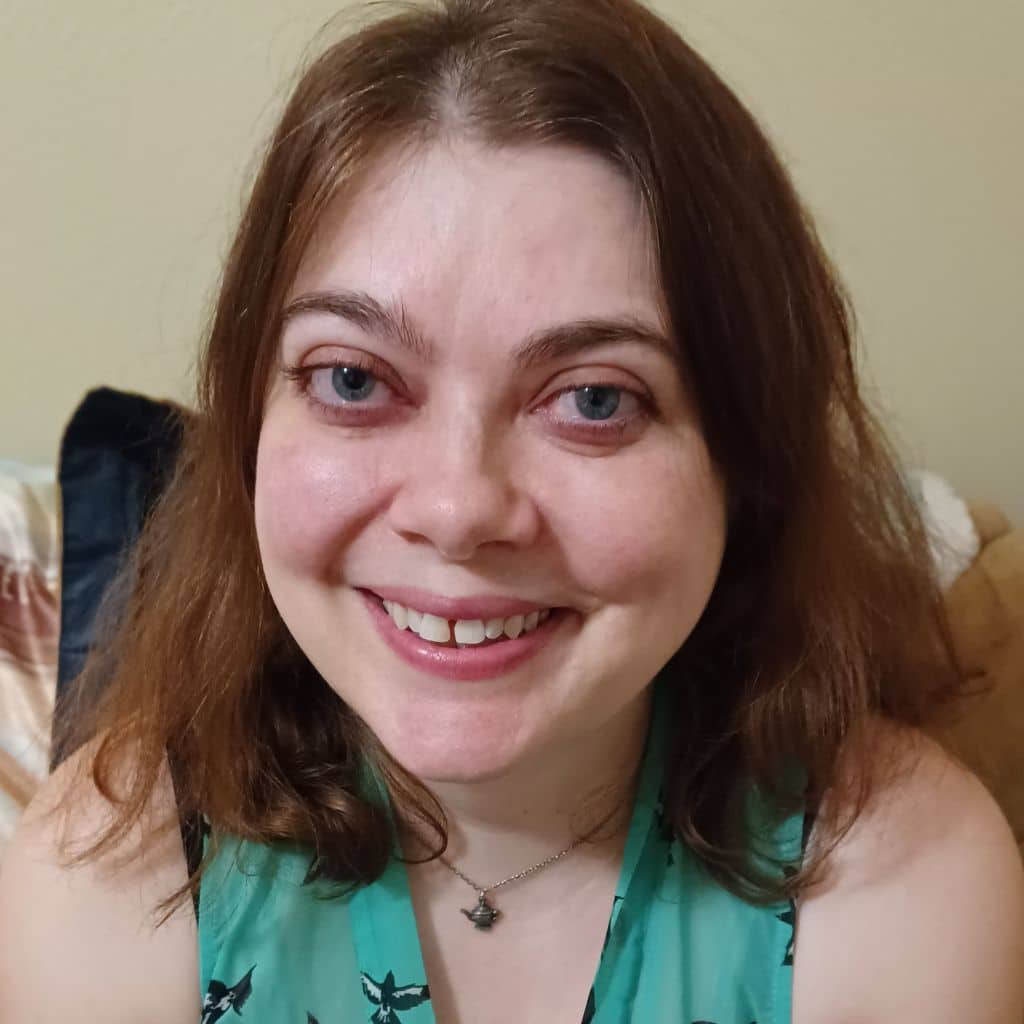 About the Author: G.G. Andrew
G.G. is a freelance writer and author of romance and women's fiction, including the short story "Everything Left Unsaid" in the collection A Million Ways: Stories of Motherhood. A Texas transplant, she lives outside Houston with her husband and two sons, both of whom are on the autism spectrum. In her spare time, she enjoys browsing bookstores, yoga, paper crafts, cooking, genealogy, and anything related to Halloween. She's probably drinking tea right now.