We love any opportunity to get to know our favorite authors better. So a lightning round of questions sounds like a good place to start. Here, we ask five quick questions (with one wildcard) about books, genres, reading preferences, writing style, and their secret to success. 
Opening up and allowing yourself to be vulnerable might sound scary, but author and podcaster Laura Tremaine emphasizes that it's one of the most powerful things you can do. In her books (The Life Council, Share Your Stuff. I'll Go First.) and podcast (10 Things To Tell You), Tremaine explores how sharing our authentic selves — including the hard stuff — allows us to be seen, to connect on a deeper level, and to forge more meaningful friendships. Best of all, she shows how cultivating deeper friendships is easier than you think, even in our chaotic lives.
Here, Tremaine shares her writing ritual, the trifecta that helped her make it as a writer and podcaster, and her all-time favorite author (it might surprise you).
1. What are your all-time favorite books?
---
Laura Tremaine: That's an impossible question, but here are a few across the span of my life:
Yes — these are sort of all over the place in terms of tone and genre, but they are all books that mean something different and important to me.
3. Which do you prefer: ebook or audiobook?
---
Laura Tremaine: These days I read almost exclusively ebooks. When I switched to that format, I started reading a lot more in general, because that means I always have a book with me.
4. What's your writing routine or process?
---
Laura Tremaine: It sounds a little woo-woo, but while writing my second book, The Life Council, I finally landed on a writing ritual that works really well for me. At my desk in my home office (that also doubles as my closet), I open a window and light a candle and then put my hand on my heart and give myself a small pep talk about doing the work I'm meant to do each day. Then I set a timer for 30 minutes. I work in focus mode on my computer until the timer goes off and then I hit repeat. I can work for about 90 minutes (in 3 sets of 30 minutes) before I need to stand up and take a break. I like doing the 30-minute sets even when I just hit "repeat" because it keeps me loosely aware of the time and also makes me feel productive, like I'm working towards a goal.
5. How much of your writing success is due to hard work, talent, or luck?
---
Laura Tremaine: I believe I have a healthy dose of all three. I think that writing and communicating is my natural gift, but I've also been serious about it as a craft for over a decade. I started a blog back in 2010 where I wrote daily every single weekday for years, long before I made a single dollar doing so. That was work and discipline that eventually paid off in ways I never could have imagined. Luck has come in at every turn, starting with living in a time where writers could create and publish to an audience in the same day, garnering feedback and attention very quickly. I've also been lucky in meeting the right people at the right time, like fellow writers who shared my work. You really need the full trifecta to make it in this industry.
Wildcard: If you could have coffee/tea with anyone alive or dead, who would it be and why?
---
Laura Tremaine: My instinct here is to say Stephen King, because he's my all-time favorite author, but the truth is that I would probably freeze up in his presence and be a terrible conversationalist!
Books and Podcasts by Laura Tremaine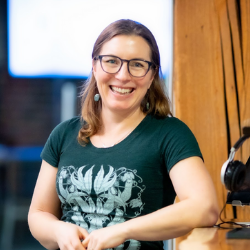 About the Author: Katie Winters
Katie is an Everand editor who digs weird westerns and hidden histories and never says no to noir. She loves putting her librarian training to work connecting readers with good books. And dancing to Dolly Parton.