We love any opportunity to get to know our favorite authors better. So a lightning round of questions sounds like a good place to start. Here, we ask five quick questions (with one wildcard) about books, genres, reading preferences, writing style, and their secret to success. 
Author and self-styled geek, Mike Chen's heartfelt sci-fi novels explore everything from time travel and the nature of memory to intergalactic family drama and the Star Wars universe — and punk rock. His latest novel, Vampire Weekend, is not your typical vampire book; it's a love letter to music (including Blondie, Bowie, Joan Baez, Daft Punk, and more) that puts anyone who's ever felt like an outsider on center stage.
Here, he shares the book he's jealous he didn't write, his writing process, and the Starman he'd love to have coffee with.
1. What are your all-time favorite books?
---
Mike Chen:
I think "favorite" carries a few different meanings, as they mean different things to me based on the age I read them. As a teen, Anne Rice's
Vampire Chronicles
— particularly
Interview With the Vampire
— became central to who I was, and a lot of the way I view how prose describes atmospherics comes from that. Nick Hornby's
About a Boy
is a book I really love and often go back to, both for fun and to examine a craft element. In recent years, Kat Howard's
An Unkindness of Magicians
remains one of the best blends of worldbuilding, character, stakes, and plot I can think of. And my favorite book I read last year was Catriona Silvey's
Meet Me in Another Life
— when I finished it, I messaged her and told her I was so jealous I didn't write it.
2. What's your favorite genre to read?
---
Mike Chen: I've always been a science fiction person, and if you look at my favorites from childhood, they mostly either touched that or gothic horror. I still feel this way, though my genre tastes really do need strong character work — I'm not as interested in plot-driven books that focus on big-picture government machinations, I'd much rather get a slice of life within these settings. Whether sci-fi or horror (and some fantasy, though not too much), my main thing is I want a grounded take of what characters are thinking and feeling during fantastical situations.
Also, there was probably a five-year span where the only books I read were Star Wars books, so it feels a bit surreal to be a part of that now. Star Wars is still a large part of my TBR pile.
3. Which do you prefer: ebook or audiobook?
---
Mike Chen: I was hesitant at first with audiobooks because my brain couldn't quite grasp them. But they are my preferred format now. Part of this is logistical, as it feels like life from 2020 onward has made it difficult to simply sit down and read. But I also really enjoy the narrator performances and interpretations. Star Wars audiobooks are particularly great, as they have sound effects and music like an audio drama. I do enjoy revisiting my own work from time to time via audiobook, as having the narrator perform feels distanced enough that it's more like a visit with old friends than work.
4. What's your writing routine or process?
---
Mike Chen: I am an outliner and I build in layers. So I start with a concept, then break it out into a rough three-act structure in a short synopsis. If that works, then I expand it until I get a synopsis at about 5,000 words. Then I take that and break it out into sections for chapters, then I'll start drafting from that. The first draft is very skeletal, a lot of dialogue and stage direction as I try to learn the voices of the characters. I'll do subsequent passes to fill in the prose, worldbuilding, and other layers, all polishing as I go.
5. How much of your writing success is due to hard work, talent, or luck?
---
Mike Chen: I would say that the bulk of it is hard work, and here's why: I think about every writer I started with about 15 years ago, and the ones that stuck with it broke through. They were diligent and willing to improve. Everyone has an innate talent in writing, whether it's dialogue or structure or worldbuilding or whatever. Mine is dialogue, it comes naturally. So it's great to have a talent, but the bigger issue is recognizing what does NOT come naturally, and then working hard to turn those weaknesses into strengths. As for sales success, this industry is so weird and random that I think pretty much every author will agree that you have to set yourself up for success through hard work, but what comes of that is pretty darn random and luck.
Wildcard: If you could have coffee/tea with anyone alive or dead, who would it be and why?
---
Mike Chen: No question, it would be David Bowie in his elder statesman days. His interviews were always sharp and insightful, with far more goofy wit than you would imagine. I saw him in 2002 and he spent half the time between songs telling jokes and stories. So an absolute dream would be two hours at a little cafe with him.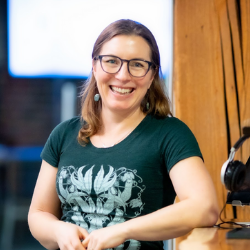 About the Author: Katie Winters
Katie is an Everand editor who digs weird westerns and hidden histories and never says no to noir. She loves putting her librarian training to work connecting readers with good books. And dancing to Dolly Parton.