From reducing stress to bolstering your vocabulary, there are many valuable benefits to reading. But whether you opt for ebooks, print books, audiobooks — or, like many of us, all three — you'll be doing your brain good. Here, learn about some of the most interesting research on the cognitive differences between the formats — along with the benefits of each.
The fine print
Most of us grew up reading printed books. We can relate to loving the smell of an old book or getting lost in a bookstore. In Reader, Come Home: The Reading Brain in the Digital World, author and reading expert Maryanne Wolf points out that people are reading more than ever. She explains that reading is largely digital, which causes our eyes to adopt "an F or zigzag style in which we rapidly 'word-spot' through a text." In other words, we tend to skim. The problem with skimming is we lose out on the benefits of deep reading, which include a better ability to sequence the plot of a story, improve overall comprehension, and increase empathy through a more intense identification with characters.
One reason why deep reading physical books is more effective is because books are tangible objects. When we pick up a novel we've been reading, we can locate where we stopped reading on the page and how far we've read into the book. These spatial clues allow us to better recall what we've read.
A study published this year explored how time pressure affected reading comprehension with ebooks versus print. Under time pressure, print readers were able to focus and comprehend more than e-readers. However, without that time pressure — say, in a leisure-reading scenario — the amount of "mind wandering" and comprehension did not vary significantly between groups.
Enter ebooks
As the world of digital information grows, readers increasingly turn to ebooks. It's no wonder: ebooks are super portable, often less expensive, and can be easy to search and highlight; no dog-eared pages required. You can also download hundreds of titles on your tablet, or choose a subscription service like Scribd to access thousands of ebooks.
Do our story-loving brains get as much out of this relatively new format? Is it better to read Fredrik Backman's Anxious People in print or ebook? As you might have guessed, it's complicated — and evolving.
A 2014 study showed reading on a screen made participants more confident that they'd learned — but they actually performed worse when tested. However, the research noted that practice improves performance "among those who preferred reading from screens."
A more recent study of Korean middle-school students found comprehension was similar between those who read print and those who read an interactive ebook. The researchers concluded that "it may not be the medium of reading, but how students engage with each medium that can affect their comprehension of text." Together with the 2021 research above about reading with and without time-pressure, it might not be the right question to ask whether print books or ebooks are better, but rather which book you want to read, how quickly, and with how much depth.
In his book The Reading Mind, author and psychology professor Daniel T. Willingham put a positive spin on ebook research: "There is a small cost to reading on a screen compared to reading on paper," he wrote. "That cost will likely decline and may well disappear in the coming years, as engineers find better ways to design ebooks."
What about audiobooks?
So where does audio fall in the research? Is listening to the audiobook of Christina Lauren's The Unhoneymooners the same as reading the ebook?
In a 2018 New York Times op-ed, Willingham says yes, and no. He points to research showing comprehension is much the same for adults whether they visually read or hear a passage. Similarly, in a 2016 study, Beth Rogowsky, a reading researcher and co-author of Uncommon Sense Teaching, found no difference in comprehension between those who read an ebook excerpt of Laura Hillenbrand's Unbroken and those who listened to it via audiobook.
Yet, we know hearing a story — particularly one read by the author like Jenny Lawson's Broken (in the best possible way) — is a unique experience. That's partly because audiobooks offer something print and ebooks lack: prosody. Prosody includes pitch, tempo, and the stress put on different words and syllables, and it may be why your friend didn't get that sarcasm in your last text. According to Willingham, prosody is also why we often can understand Shakespeare better when it's heard.
So are audiobooks the superior format? Not across the board. Other research shows that when it comes to a more complicated subject or story, reading an organized text visually — which allows you to slow down, reflect, and re-read if necessary — still has an advantage. Not to mention that it's easier to space out during an audiobook or become distracted by the road.
Despite this, Willingham pointed out what most audiobook fans know: The format is here to stay. "Print may be best for lingering over words or ideas," he wrote, "but audiobooks add literacy to moments where there would otherwise be none."
Like he suggested of ebooks in The Reading Mind, Willingham thinks our audio comprehension skills may change and evolve. "As audiobooks become more common," he explained "listeners will gain experience in comprehending them and may improve, and publishers may develop ways of signaling organization auditorily."
The bottom line
Curious about how the experts choose to read, I asked Rogowsky which formats she preferred.
Rogowsky uses all three formats — for different reasons. "I read a lot of research articles and nonfiction electronically and like that I can store them on my laptop and phone and have easy access to them," she told me. "If I am reading a book that I will be using to teach, I like the hard copy so I can mark it all up, add Post-its and paperclips, and shuffle through pages."
What about her leisure reading? "For fiction for a book club, I love audiobooks," she says. "That way I can enjoy them while I am commuting to work or folding clothes."
The bottom line to all this research: Reading is good. Whatever gets your brain engaged in a story or new information is positive. In fact, most of us don't have to choose just one way to read. With benefits to each reading format, you might not want to pick and choose. Perhaps it's like nutrition that way: Variety is key.
So, go ahead and listen to Black Water Sister while you drive to work, spend your lunch hour with the hilarious and thought-provoking ebook Orgy, and before you go to bed, tackle a chapter of that classic Russian novel on your nightstand. Your mind will thank you.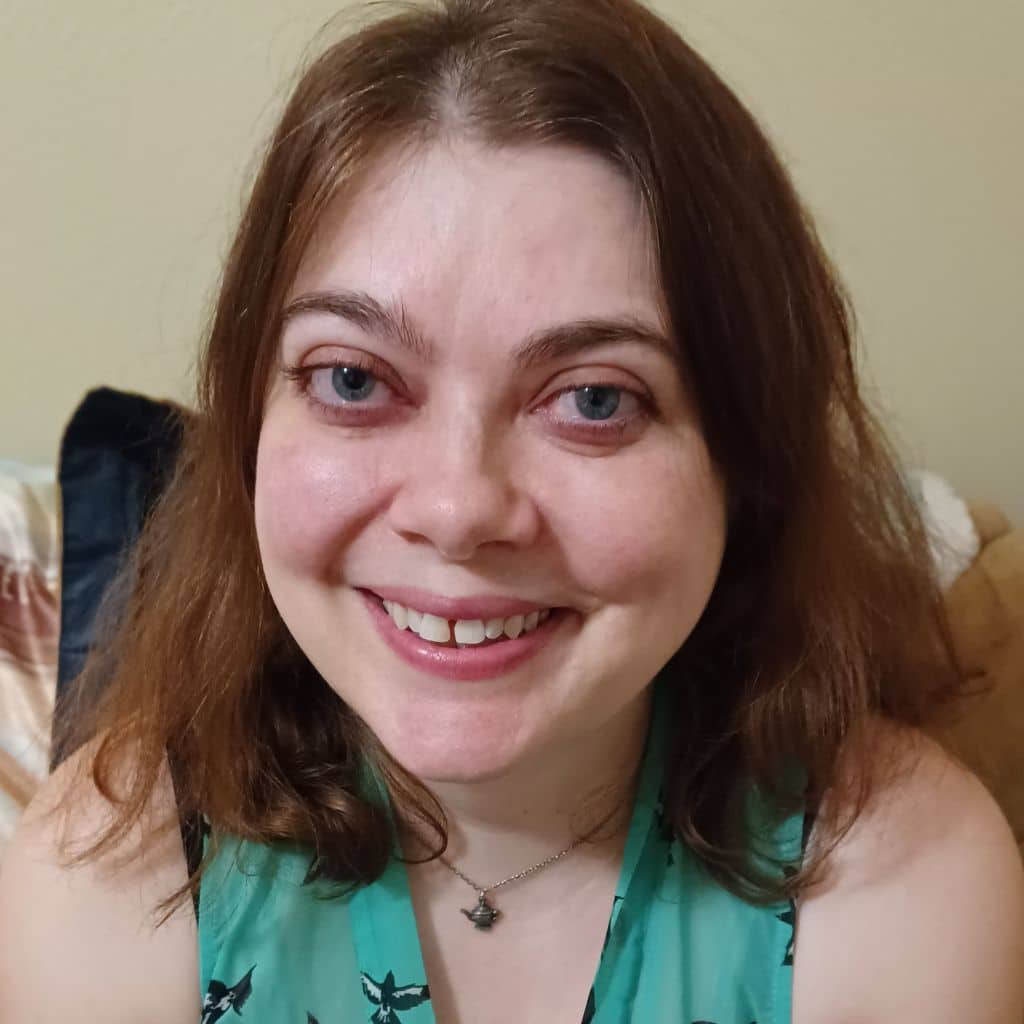 About the Author: G.G. Andrew
G.G. is a freelance writer and author of romance and women's fiction, including the short story "Everything Left Unsaid" in the collection A Million Ways: Stories of Motherhood. A Texas transplant, she lives outside Houston with her husband and two sons, both of whom are on the autism spectrum. In her spare time, she enjoys browsing bookstores, yoga, paper crafts, cooking, genealogy, and anything related to Halloween. She's probably drinking tea right now.