We love any opportunity to get to know our favorite authors better. So a lightning round of questions sounds like a good place to start. Here, we ask five quick questions (with one wildcard) about books, genres, reading preferences, writing style, and their secret to success. 
Author and art history professor Katy Hays' first novel debuted big, being immediately selected as a Read With Jenna Book Club pick. In The Cloisters, Hays writes dark academia to rival Donna Tartt's The Secret History with a tarot twist that will intrigue fans of Leigh Bardugo's Ninth House and Hell Bent. Set against the backdrop of a mysterious museum, the book explores the dark side of ambition, the complexities of female friendship, and the allure of the occult.
Here, Hays shares her favorite gothic fiction, sums up her writing process in three words, and spills the tea on what she'd want to gossip about with Joan Didion and Donna Tartt.
1. What are your all-time favorite books?
---
Katy Hays:
I'm an enthusiastic reader of
gothic fiction
, so naturally,
Daphne Du Maurier's
Rebecca
and
The Scapegoat
will land on the list. Fitzgerald's
Tender is the Night
has stood up to multiple re-reads, as have Patricia Highsmith's Ripley novels. More recent books that have moved into my all-time echelon include:
The Perfect Nanny
by Leïla Silmani,
The Destroyers
by Christopher Bollen, and Patrick DeWitt's
French Exit
.
3. Which do you prefer: ebook or audiobook?
---
Katy Hays: Neither. I don't own an e-reader and very rarely listen to audiobooks, so a paper copy is my preference. Out of the 50–60 books I read per year, I only listen to around five of them.
4. What's your writing routine or process?
---
Katy Hays:
Get. It. Done. That's my routine and process. I'm not precious about where or when I write, if I have a goal for that day I'll find a way — by hook or by crook — to accomplish it. Ten minutes waiting for a meeting to start? That's a handful of words. Writing while the chicken roasts? That's more to the good. I'm a big believer in just
writing my way through
.
5. How much of your writing success is due to hard work, talent, or luck?
---
Katy Hays: All of the above. It's impossible to get published, in my opinion, without a little bit of all three.
Wildcard: If you could have coffee/tea with anyone alive or dead, who would it be and why?
---
Katy Hays:
I'm most drawn to people who gossip, so I would want to have tea with Donna Tartt (
The Secret History
) to get the scoop on
Bennington in the '80s
and I'd want to have coffee with Joan Didion (
The White Album
) to hear what it was like buying a trial dress for one of the Manson girls, and also, if she went to Bullocks to purchase it.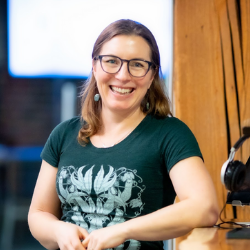 About the Author: Katie Winters
Katie is an Everand editor who digs weird westerns and hidden histories and never says no to noir. She loves putting her librarian training to work connecting readers with good books. And dancing to Dolly Parton.