We love any opportunity to get to know our favorite authors better. So a lightning round of questions sounds like a good place to start. Here, we ask five quick questions (with one wildcard) about books, genres, reading preferences, writing style, and their secret to success. 
Adventure mixes with magic and slow-burn romances ignite in author Tricia Levenseller's YA high fantasy novels. Pirate queens, a Viking-inspired warrior, a forger of all-powerful swords — Levenseller's heroines are as fierce as they are relatable, whether they're embarking on a quest to save the world or battling their anxieties. Levenseller has garnered praise for writing about characters with disabilities with a high level of care, including in her latest Bladesmith duology, where the heroine challenges a brutal warlord while dealing with an anxiety disorder.
Here, Levenseller shares her favorite YA fantasy trilogies, takes us step-by-step through her writing process, and reveals how many books she wrote before she got her first one published.
1. What are your all-time favorite books?
---
2. What's your favorite genre to read?
---
Tricia Levenseller: Young Adult fantasy! I love escaping to made up worlds and reading about teens making tough choices.
3. Which do you prefer: ebook or audiobook?
---
Tricia Levenseller: ebook. I have a mind that wanders when I try listening to audiobooks.
4. What's your writing routine or process?
---
Tricia Levenseller: It differs from book to book, but for the most part:
Step 1: Let the book idea sit for a few months.
Step 2: Write up a chapter-by-chapter outline.
Step 3: Set a word count goal (usually 1,000–2,500 words a day).
Step 4: Meet word count goal.
I will edit as I go along. If I get stuck, I'll take a day to plot through what isn't working, then resume writing the next day.
5. How much of your writing success is due to hard work, talent, or luck?
---
Tricia Levenseller: I would say my writing success is 90% hard work and 10% luck. Talent comes from working hard. Every time I write new words, I'm improving my craft. I wrote four books before one was finally published. That's how long it took to get my writing up to speed and for the stars to align (i.e., finding the right agent at the right time, who was then able to find the right editor at the right time).
Wildcard: If you could have coffee/tea with anyone alive or dead, who would it be and why?
---
Tricia Levenseller: I've lost a brother and a sister. I would love to be able to sit down with them and catch up.
Books by Tricia Levenseller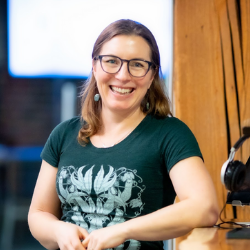 About the Author: Katie Winters
Katie is an Everand editor who digs weird westerns and hidden histories and never says no to noir. She loves putting her librarian training to work connecting readers with good books. And dancing to Dolly Parton.