We love any opportunity to get to know our favorite authors better. So a lightning round of questions sounds like a good place to start. Here, we ask five quick questions (with one wildcard) about books, genres, reading preferences, writing style, and their secret to success. 
Natalie Lue, founder of the popular Baggage Reclaim blog and The Baggage Reclaim Sessions podcast, helps people ditch their emotional baggage to make room for better self-esteem, healthier relationships, and more fulfilling work. This new year, embrace a fresh focus on self-care with Lue's latest book, The Joy of Saying No. Her empowering guide helps readers unlearn harmful people-pleasing habits and offers strategies for prioritizing your needs, setting boundaries, and living authentically. Here, Lue shares her favorite books, walks us through her writing process, and reveals the author she fangirls over.
1. What are your all-time favorite books?
---
3. Which do you prefer: ebook or audiobook?
---
Natalie Lue: Tough one, but I think ebook. I can highlight!
4. What's your writing routine or process?
---
Natalie Lue: I try to write every day, and I join a weekday writing community (The London Writers' Salon) most mornings on Zoom. I typically journal first and then move on to whatever writing I need to do that day — blog, podcast outline, newsletter, interview, or just emptying ideas out of my head into Evernote or my bullet journal.
For book writing, assuming I already have an outline, I map it out in Scrivener and start adding my haul of scribbles, Evernotes, blogs, and podcast show notes. I won't necessarily use all of them but they remind me of key ideas I've already talked about. I typically set a daily writing target in the app, although I'm not rigid about it as some days I write 10 times the target and others are a washout. It all counts! I also map out the book on extra-large post-its and index cards as it helps my brain to work out where everything goes or what's missing. As I start to get a sense of where I'm going, I keep running lists of potential key ideas and takeaways for each chapter. At different points throughout the process, I check to see that I've included these, especially after there's been lots of moving around.
Although I always start at the beginning of the book, once I get stuck or find that I'm laboring over words, I move to another part of the book or switch to writing and exploring concepts in a notepad. Often, transferring the handwritten notes into the draft in Scrivener gets me going again. I also print out the draft and lay it out on the floor of my studio along with the various post-its, index cards, and scribbles. Then I get stuck in with scissors, glue, stapler and highlighters moving everything around like a jigsaw puzzle — I love this bit!
With The Joy of Saying No, I went away a couple of times for a few days at the beginning and end of the draft. The trips gave me the headspace and a change of scenery to get into book-writing mode and then to charge towards the deadline uninterrupted. Once I'm done with chapters or the entire draft, I have to print out and do edits by hand first. I've tried doing it straight into the digital draft, but I don't pick up on the same edits, and working in pen and paper seems to bring out the best in me.
As a recovering perfectionist, I have to be careful of editing too much before the draft is done. I go large with the draft and then it's the challenge of cutting back and whipping it into final shape, which I've surprised myself by loving this stage. Admittedly, I'm not precious about what I cut because I know it can become a blog, podcast, or even quote art!
5. How much of your writing success is due to hard work, talent, or luck?
---
Natalie Lue: Ooh, interesting question! If "writing success" is about book deals, then one could say with me that it's taken hard work! I first started writing online in June 2004 and it took the best part of 17 years to get a book deal. But my writing success has been about doing my own thing, building an audience, honing my voice over time, and not waiting to be chosen and so self-publishing my previous books. I've made a full-time living from writing for 14 years. So let's call it hard work and talent with dashes of luck here and there.
Wildcard: If you could have coffee/tea with anyone alive or dead, who would it be and why?
---
Natalie Lue: It would be really cool to have tea with Judy Blume. She not only sowed the seeds of my believing that maybe I could write, but I feel like she held my hand through some very difficult years. It's rare that I get 'fangirl' over people, but I got to meet Judy at a book event several years back and she signed a couple of old editions of her books for each of my girls and I felt a bit overcome. She's delightful.
Books and Podcasts by Natalie Lue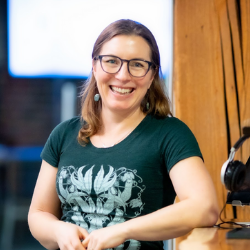 About the Author: Katie Winters
Katie is an Everand editor who digs weird westerns and hidden histories and never says no to noir. She loves putting her librarian training to work connecting readers with good books. And dancing to Dolly Parton.
About the Author: Sarah Sung
Sarah is the Editorial Director at Scribd who obsesses over content strategy and brand building, and has written lifestyle content for AFAR, San Francisco Chronicle, and Under Armour. In her spare time she teaches indoor cycling and consumes podcasts, audiobooks, and ebooks at all times of the day and night. Traveling and dining out are always high on her to-do list