We love any opportunity to get to know our favorite authors better. So a lightning round of questions sounds like a good place to start. Here, we ask five quick questions (with one wildcard) about books, genres, reading preferences, writing style, and their secret to success.
In her adventure-filled historical novels, author Jenni Walsh reimagines the lives of remarkable women in history, ranging from the famous to the infamous, and even the hidden heroines. From Bonnie Parker of Bonnie and Clyde fame to a schoolgirl braving the London Blitz, Walsh vividly brings the rich experiences of daring women to life. Her latest novel, The Call of the Wrens, plunges readers into wartime intrigue with the bold, motorcycle-riding spies of the Women's Royal Naval Service, who delivered secret dispatches during World War I and II. Here, Walsh shares the genres she loves almost as much as historical fiction, how she makes errands more fun, and which iconic women she'd like to have a cup of coffee with.
1. What are your all-time favorite books?
---
Jenni Walsh: There's a book I've always thought so fondly of: Letters From Rifka by Karen Hesse. I read it in sixth grade, picking it up solely because the woman on the cover resembled my teacher at the time. Little did I know, I'd be blown away by the story inside, too.
2. What's your favorite genre to read?
---
Jenni Walsh: Historical fiction, with some thrillers and rom-coms thrown in to mix things up now and again.
Editor's note: Explore Walsh's favorite genres with these editor-curated lists:
3. Which do you prefer: ebook or audiobook?
---
4. What's your writing routine or process?
---
Jenni Walsh: Sitting down and hoping the words will come. If they don't, they'll inevitably come later while I'm showering.
Editor's note: For more out-of-the-box approaches to get the words flowing, like taking a shower, check out these eight unexpected writing tips from acclaimed authors.
5. How much of your writing success is due to hard work, talent, or luck?
---
Jenni Walsh: I'm a believer that hard work creates talent and luck allows that talent to be seen.
Wildcard: If you could have coffee/tea with anyone alive or dead, who would it be and why?
---
Jenni Walsh: I've written stories about some rather iconic women, real and imagined. There'd be lots of tea to spill with the real-life Bonnie Parker and Eleanor Dumont, along with the war-time heroes who inspired the characters within The Call of the Wrens.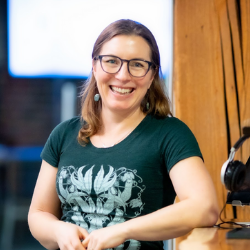 About the Author: Katie Winters
Katie is an Everand editor who digs weird westerns and hidden histories and never says no to noir. She loves putting her librarian training to work connecting readers with good books. And dancing to Dolly Parton.