We love any opportunity to get to know our favorite authors better. So a lightning round of questions sounds like a good place to start. Here, we ask five quick questions (with one wildcard) about books, genres, reading preferences, writing style, and their secret to success.
You may recognize Dr. Corey Yeager from Oprah and Prince Harry's show, The Me You Can't See. An inspiring mental health advocate and the team psychotherapist for the NBA's Detroit Pistons, Yeager is working to destigmatize open and honest discussions about mental health. In his empowering new book, How Am I Doing?, Yeager shares 40 questions to help you check in with yourself, get comfortable opening up about your emotional well-being, and create self-care strategies to help you thrive.
Here, Yeager shares his favorite books, how chaos affects his writing, and the musician whose wisdom he'd love to soak up.
1. What are your all-time favorite books?
---
2. What's your favorite genre to read?
---
Corey Yeager: I absolutely love nonfiction! I am always interested in learning and am curious by nature!
3. Which do you prefer: ebook or audiobook?
---
Corey Yeager: Audiobook, hands down!
If I'm going to read a book, I want to feel the pages in my hand!!
4. What's your writing routine or process?
---
Corey Yeager: As crazy as it sounds, I write best with the chaos of my house at its highest. If my wife is on a call and my sons are wrestling about, I'm at my writing prime!
5. How much of your writing success is due to hard work, talent, or luck?
---
Corey Yeager: I would attribute most of my writing prowess to hard work and dedication to that specific task! I was not a very good writer for a long period of my life but my mentor and advisor through my PhD helped me gain tons of confidence! Now I absolutely love to write.
Wildcard: If you could have coffee/tea with anyone alive or dead, who would it be and why?
---
Corey Yeager: I would love to sit at the feet of the great Bob Marley and soak up a spoonful of his wisdom!
Books by Dr. Corey Yeager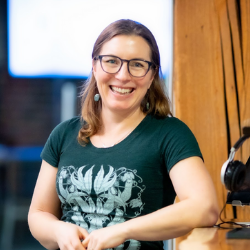 About the Author: Katie Winters
Katie is an Everand editor who digs weird westerns and hidden histories and never says no to noir. She loves putting her librarian training to work connecting readers with good books. And dancing to Dolly Parton.