Our latest Scribd Original, This is Life, is a collection of short stories from some of today's best writers, like the experimental and award-winning Carmen Maria Machado, environmentalist Bill McKibben, and journalist Bonnie Tsui. While it's hard to put the past two years of living through a pandemic into words, these authors beautifully capture their personal experiences dealing with these strange times. Here, these authors share books they highly recommend and why you should consider adding it to your to-be-read pile this year.
The title essay was first published in Harper's a while back, and it is a marvel. It's about what it means to care for someone — someone you might not even know all that well, which is all the more extraordinary — with your whole heart.
I've been re-reading the Essays of E.B. White: don't dismiss E.B. White as a classic; appreciate him all over again as the way in which he revolutionized the essay form.
Carmen Maria Machado's Pick:
This wonderful, odd novel about a young man living out his life in the treetops in eighteenth-century Italy is everything I need when the world is difficult and terrible — imaginative, funny, tender, and ultimately full of joy.
Two books I read this year that I found very moving and inspirational were both about strong women engaged in two of the great causes of the last century.
A House In The Mountains by Caroline Morehead is the story of four Italian women who joined the anti-fascists partisans in World War II. It's an extraordinary book about courage, fear, resilience, and triumph.
Coming of Age In Mississippi by Anne Moody is a memoir by one of the towering figures of the Civil Rights era. In many ways, the Civil Rights movement is a story of strong Black women who faced the double discrimination of race and gender. Anne Moody is an inspiration and a true story of one woman speaking truth to power.
The Marvelous Arithmetics of Distance: Poems by Audre Lorde
Though this volume came out decades ago, I keep coming back to Lorde's words in this, her final book, full of joy and an expansive understanding of humanity.
All We Can Save edited by Ayana Johnson and Katherine Wilkinson
This collection of essays and poems by women gets to the heart of the climate crisis, from science to spirituality.
Empire of Pain by Patrick Radden Keefe
I loved this book because it helps explain how something terrible happened — namely, the opioid epidemic — but it does so through the lens of people.
A combination of small pleasures and big dreams has kept these writers going through strange and difficult times. Each essay is deeply personal yet culturally resonant: Kiese Laymon writes of battling Breaking News; Carmen Maria Machado laments that love isn't all-powerful; Jacqueline Woodson shares quiet domestic experiences that have become momentous. Reading these and the seven other thoughtful takes on the importance of community amidst division and isolation provides real solace.
---
---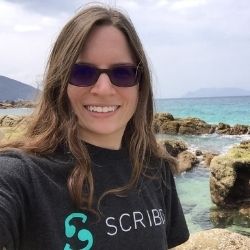 About the Author: Ashley McDonnell
Ashley is an Everand editor who loves Ernest Hemingway, "The Hunger Games," and EDM. When she's not reading, she's making nerdy podcasts about anime and manga and learning to DJ.