We love any opportunity to get to know our favorite authors better. So a lightning round of questions sounds like a good place to start. Here, we ask five quick questions (with one wildcard) about books, genres, reading preferences, writing style, and their secret to success. 
Author Justina Ireland writes about strong young women who take on the powers that be. Like in her previous bestsellers Dread Nation and Deathless Divide, the heroine in Ireland's latest YA historical fantasy Rust in the Root fights supernatural enemies along with very real evils — like racism, classism, and misogyny — in a darkly mystical alternative world. These spellbinding reads couldn't be more appropriate to help you get into the Halloween spirit.
We're excited that Ireland took the time to share what manga she's reading, why writing isn't magic, and how Britney informs her writing process.
1. What are your all-time favorite books?
---
Justina Ireland:
I don't really have any! I'm always more excited about forthcoming titles. Although I have recently enjoyed going back and rereading a number of Edward Gorey books. I really enjoy his macabre sense of humor, and sometimes it's just nice to escape into something easier on my brain than straight prose. I've been reading a lot of manga lately, and have really enjoyed
Spy x Family, Hell's Paradise, Undead Unluck,
and
Jujutsu Kaisen
. I've also recently read and liked
Tessa Gratton
's
­­Moon Dark Smile
and
Natalie Parker
's
The Devouring Wolf
.
2. What's your favorite genre to read?
---
Justina Ireland: Everything! I usually gravitate toward speculative fiction but I will also grab historical nonfiction, contemporary romance, literary, whatever. I love comics, I love manga, and I even love reading screenplays. Everything is fair game, just depending on my mood.
3. Which do you prefer: ebook or audiobook?
---
Justina Ireland:
Either? Neither? Both? It really depends on the material. I generally dislike when I end up speaking in absolutes because there's always an exception to the rule. For example, I had trouble getting into
Annihilation
by Jeff Vandermeer as a book but I loved listening to it. And there have been audiobooks, like
The Deep
by Alma Katsu, where I have put them to the side because I knew I wanted to have more time to mull over the prose. Honestly, people should learn to keep more of an open mind, because both can be equally great or frustrating. Either way, it's all reading.
4. What's your writing routine or process?
---
Justina Ireland: Sit down and get to it. Writing isn't magic, it's just work. And as Britney says, you gotta work, bitch.
5. How much of your writing success is due to hard work, talent, or luck?
---
Justina Ireland: There's this band, American Aquarium, that has a great song: "The harder you work, the luckier you get." I think talent is just a thing people say to gatekeep publishing/writing/creative fields and discourage everyone from trying to break in. Some people are terrified that more writers means more competition and would rather keep the field small instead of upping their game. And honestly, that's bullshit.
We all have talent, but it has to be developed. Talent is nothing without hard work. Luck only matters if you're in a position to take advantage of an opportunity. And if you work hard and never get that moment to make the next move you can end up laboring with little success.
So you work hard and hope you have developed your talent enough to take advantage of the luck when it shows up.
Wildcard: If you could have coffee/tea with anyone alive or dead, who would it be and why?
---
Justina Ireland: My maternal grandmother. Honestly, who cares about moldy old historical people who are just going to say something vaguely offensive and weird when you can have one last afternoon with someone you loved? The ghost of Abe Lincoln can suck an egg, I'd rather make egg noodles with my grandma one more time.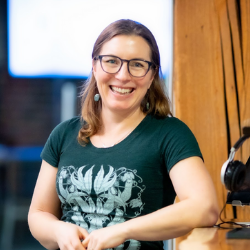 About the Author: Katie Winters
Katie is an Everand editor who digs weird westerns and hidden histories and never says no to noir. She loves putting her librarian training to work connecting readers with good books. And dancing to Dolly Parton.