"Diversify your song catalog." That's just one of many suggestions comedian, author, and dad Chris Gethard has for new and soon-to-be parents in our video interview. As a father to a two-year-old son and a man who tells jokes for a living, his advice is, of course, funny, but above all it's practical and heartfelt. Gethard has struggled with depression all of his life, and it's given him a perspective that's not often represented in parenting classes and books.
Hear more about the highs and lows of parenthood in this video and in Gethard's Scribd Original, Dad on Pills.
Gethard writes about his darkest fears as a dad who struggles with mental health (like that his son will also have a giant forehead full of suicidal thoughts) with humor and heart. For fellow mentally ill parents, Gethard's hilarious personal essay is a reassuring pep talk, full of compassion, empathy, and kindness (and, OK, sometimes a few punches to the throat).
---
---
Dad on Pills
 is a Scribd Original and is available exclusively on Scribd. It's included in our subscription service as 
an ebook
 and 
an audiobook
. You can find more Scribd Originals 
here
.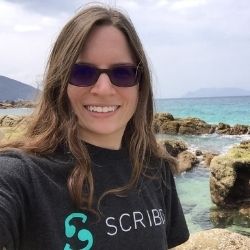 About the Author: Ashley McDonnell
Ashley is an Everand editor who loves Ernest Hemingway, "The Hunger Games," and EDM. When she's not reading, she's making nerdy podcasts about anime and manga and learning to DJ.